The various hosting chapters have been propagating many of the convention plants. We were anxious to showcase rare azaleas and rhododendrons from our region including hard-to-find clones, superior selections from the wild, and new introductions.

We will have new rhododendrons and azaleas developed by our local hybridizers like Dr. Sandra McDonald, Walter Przypek, Joe Klimovicz, Buck Clagett, Jane Goodrich, and hard to find introductions from Joe Gable, Weldon Delp, George Ring, Pete Vines, Augie Kehr, Russel and Velma Haag, and others. Pictured to the right is Sandra McDonald's introduction, 'Sandra's Green Ice'.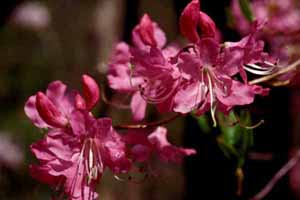 For banquet favors we are growing seedlings of selected native azaleas and rhododendrons we have seen in the wild, including Gregory Bald hybrids, Rhododendron calendulaceum forms, the Red Max (R. maximum), and a red R. vaseyi pictured to the left. Since people may not be familiar with the varieties in the sale, we are preparing a CD with color images of the plants in bloom that will mail to interested people after they register for the convention. We will try to post a number of pictures of the plants on our website, too.
The table below will eventually link to various hybrid groups that will be represented in our plant sale. Right now, you can link to names of the plants currently in our inventory: