Carefree Companion Plants for the Rhododendron Garden by Don Hyatt
Rhododendrons and azaleas form the main structure of my garden but I also appreciate all the companion plants that provide color and interest throughout the year. Rhododendron collections can sometimes look like a nursery sales area: plants and labels all lined out in rows. However, by adding undulating borders of carefree perennials, wildflowers, and carefully selected companion plants, that collection can become a naturalistic garden and an inviting landscape.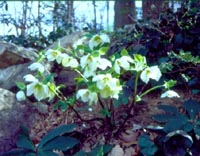 For many years I planted clumps of daylilies and hostas for summer color but these plants are favorite foods of the deer. Shade tolerant perennials with few predators are hard to find but among my favorites right now are hellebores since nothing seems to eat them. These very hardy plants keep their attractive evergreen foliage for most of the year, especially if protected from winter sun and wind. My hellebores begin blooming in late February as shown in the picture to the right and last for months. Even after a hard freeze, the blossoms perk back up as soon as it thaws. If only our early rhododendrons and azaleas were that resilient to frost!
Hellebore flowers come in many colors and often have bold spots and patterns. What looks like petals of the flower are actually enlarged sepals which may be why they last so long. Personally, I prefer whites and pinks, but they are many lovely shades of cream, green, and yellow as well as reds and deeper forms that appear almost black. My red hellebore is striking on a cold winter day when lit from behind by the late afternoon sun. Although some hellebore varieties do hold their flowers upright, most of them seem to have nodding flowers. I try to plant my hellebores on a bank so I can gaze into the blossoms from below so I can easily see the delicate structure and stamens inside.
In my own landscape, I have planted pink hellebores in front of early flowering rhododendrons including the pink species R. metternichii "Wada's Form", and two favorite lepidote hybrids, the clear pink "Olga Mezzit" and the white "Balta". I backed up the planting with a great yellow witch hazel hybrid, "Arnold's Promise" to complete the picture. My neighbor has an attractive bed of a hellebore species with finely divided leaves and yellow-green flowers called Heleborus foetidus. These really compliment the shrubs behind, the delicate, lemon-yellow Buttercup Winterhazel, Corylopsis pauciflora. Another combination I like is my creamy-yellow hellebore near the pale yellow species, Rhododendron keiskei, and a greenish-yellow lepidote hybrid called "Shamrock".
Daffodils and narcissus are great companion plants in a rhododendron garden and I have them planted everywhere, either in broad sweeps along the shrub border or scattered accent clumps. I especially like the dwarf golden yellow "Tete-a-Tete" which looks like a perfect miniature daffodil, only 6 inches tall. This variety is a great perennializer, multiplying rapidly with little or no care. Dwarf daffodils are great companions with other perennials since they do not compete heavily with plants that leaf out later in the season. Since daffodils are toxic to most animals and their roots and foliage discourage pests, I plant them in between all my hostas and daylilies to deter the voles.
Ferns are excellent in the shady garden and I am thankful the deer completely avoid my very favorite, the evergreen Christmas Fern or Polystichum acrostichoides. On a bank beside some garden steps, I also planted the miniature Ebony Spleenwort Fern, Asplenium platyneuron, so I could appreciate the delicate fronds as I ascend the stairs. Dwarf plants are always more effective when they can be viewed at eye level without bending over.
A landscape combination that I particularly like in my garden is the Japanese Painted Fern, Athyrium niobium "Pictum", planted at the base a rhododendron species from Japan with very narrow leaves, R. makinoi (pictured). The subtle coloring in the fern foliage, shades of gray-green and silver with hints of burgundy, compliments the narrow indumented leaves and lovely pink flowers of R. makinoi. The new growth of this choice rhododendron is fuzzy white as it emerges but later in the season as foliage expands, the whorls of leaves turn silvery gray and look like a fireworks display. Eventually, as the fuzz on the surface wears off, the leaves become deep green.
One of my favorite companion plants is Anemone nemorosa (pictured), a European wildflower that grows very well in moist acid soil. I have two forms, one with blue daisy-like flowers and yellow centers, and a pure white with a double center called "Vestal". The flowers bloom later and are a bit more delicate than the bulb Anemone blanda (which I also like) and they also spread by underground rhizomes. I saw the double white form of Anemone nemorosa for the first time as a ground cover under Rhododendron yakushimanum plants at the Cecil Smith garden in Portland, OR. The small flowers formed a carpet of delicate white stars among the rhododendrons. They blooms for weeks and I have now started some under my R. makinoi plants too. Anemone nemorosa seems to be pest free and since the foliage dies down in early summer, the area can either be mulched or planted with shallow rooted annuals such as impatiens or ageratum. The deer and bunnies do not like ageratum.
Sedges and various ornamental grasses are gaining in popularity, and I have started including some of the lower growing forms in my landscape. I am fond of several dwarf sedges that are doing quite well with minimal direct sun. They survived the drought and seem to be pest free. One of my favorites is the dwarf Carex hachinoensis "Evergold" which I planted beside a rock and a low, creeping evergreen azalea, R. nakaharae. The intermingling of the orange red azalea flowers and the narrow yellow foliage of the carex is very effective. Another favorite ornamental grass is the graceful variegated Hakone grass, or Hakonechloa macra "Aureola". It spreads slowly and grows only 8 to 10 inches tall with drooping, variegated leaves in a bright yellow. According to some of the literature, this grass is supposed to be difficult to establish in hot climates, but my clump has been very happy in a site with rather heavy, wet soil. For color contrast, I planted the mahogany Heuchera "Palace Purple" nearby and a yellow Knap Hill azalea "Goldflakes" behind. Eventually I will add to the grouping my red fern-leaf Japanese maple, Acer palmatum dissectum "Garnet".
I have started collecting tree peonies now since they can take more shade than the herbaceous forms and are not bothered by the deer. Their spectacular blooms can measure 10 inches across and make wonderful accents in the rhododendron garden, but more on these later. If you have favorite care-free companion plants in your garden, share your thoughts with us or bring a pot or two to our next plant sale or auction. Sometimes companion plants bring higher prices than rhododendrons!

Donald W. Hyatt, Editor