<!- ************************************* ->
Calendar

August 6, 2006 – Chapter Picnic at Margaret White's Home
September 24, 2006 - Regular Meeting at the Arboretum
October 28, 2006 - Fall Banquet, JR's Stockyards at Tysons
January 14, 2007 - Regular Meeting at the Arboretum
March 18, 2007 - Regular Meeting at the Arboretum
April 12-15, 2007 - ARS Convention, San Francisco, CA
April 27-29, 2007 - District IX Meeting, Richmond, VA

Chapter Officers

President: Jon Wallenmeyer
- jjjp1984@mac.com
Vice-President: Bob McWhorter
- mcwho@comcast.net
Secretary: (Your name can go here!)

Treasurer: Phyllis Rittman
- prittman@erols.com
Chapter Picnic – Cutting Exchange August 6, 2006 1:00 – 5:00 PM
Come join us for our annual chapter potluck picnic at Margaret White's home on Sunday, August 6. We have moved the picnic date from July 30 to August 6 to try to avoid conflicts with other ARS chapter functions. Please bring some food to share such as an appetizer, salad, meat, casserole, dessert, etc. Drinks and eating utensils will be provided. We expect to eat by 2:00 PM so we have time afterwards to exchange cuttings and to stroll through Margaret's lovely garden.
This will be our annual cutting exchange for both azaleas and rhododendrons. If you have some unusual varieties that you are willing to share, please put a few cuttings in a clear plastic bag (3 to 5 cuttings for rhododendrons and 5 to 8 for evergreen azaleas), wrap the ends with a piece of moist paper towel, label with the name of the variety and description if known, and bring them along. We will give the cuttings away to interested people after we eat, although some really rare varieties might be auctioned off to the highest bidder. Jane Goodrich has ordered some Dip-N-Grow for the chapter, and Don Hyatt will demonstrate how he roots cuttings. (see article)
In addition, the chapter had some leftover plants from the convention plant sale, so we may have a few of those available too. Prices will be inexpensive and all the varieties are great. Don't forget to bring your checkbook.
Due to recent heavy rains, we may have some parking problems so be alert and also try to carpool. The county has put a dumpster below the barn, so we may have to park in the field.

Group Order from VanVeen
In past years, our chapter has ordered year-old rhododendron liners from VanVeen Nursery, a wholesale firm in Portland, OR. Plants usually run about $4 each, plus postage. We do not have their 2007 listing, but will distribute information and recommend some varieties at the picnic. Plants usually arrive in March or April.

Rooting Rhododendron Cuttings
Rooting Cuttings - Don Hyatt's Approach
Convention 2006 – A Grand Success
Thank You, Potomac Valley Chapter!
By all reports, the 2006 Convention was a grand success. Those of us on the committee realize we could not have carried off the event without the help of so many people in all four chapters. To all of you we say, "Thank you!"
On Wednesday evening, May 10, we began to gear up for the big event. A team converged at Marshy Point Nursery to load a truck that would bring our plants to the hotel the next day. Those little cuttings we potted up at potting parties had really grown and many were in full bloom.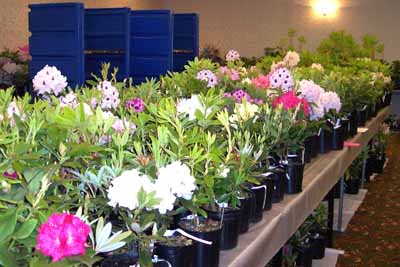 The next morning, Harry's truck arrived and we began unloading thousands of plants, moving them slowly from the loading dock through winding corridors into a freight elevator, and up to the second floor of the DoubleTree hotel. It seemed like it would take forever, but by mid afternoon, we were done and began organizing plants by hybridizer. The plant sale room we though was so large suddenly looked quite small.
On Friday, the pace quickened. All we could do is stand back and let things happen. That afternoon, people were arriving for the convention - attendees from all over the US and as far away as New Zealand, Chile, the UK, the Netherlands, and Germany. People were bringing trusses for the flower show, and photographs, art, and crafts for the Photography & Art Show.
People started lining up early for the plant sale, and at 3:00 PM we opened the doors. The mad rush was on and people were hauling off plants as fast as cashiers could take their money.
Our first speaker on Friday night was Stanton Gill who spoke on insects and disease problems, followed by Dr. Harold Sweetman, who discussed rhododendron species and useful garden hybrids. We concluded the evening with three short presentations: Dr. Sandra McDonald spoke on her evergreen azalea hybridizing, Tijs Huisman discussed his breeding efforts for double rhododendrons in the Netherlands, and John and Sally Perkins told how they hybridize for winter extremes in New Hampshire.


Flower Show Results

Later that evening, the Flower Show judging was complete and the awards were announced:

Best Elepidote: 'Stony Brook' by Werner Brack
Best Lepidote: 'Windbeam' by Charles Wagner
Best Dec. Azalea: R. calendulaceum by Doug Jolley
Best Evergreen Azalea: 'Cavalier' by Joan Netherwood

Werner Brack took the awards for Best New Hybrid and Best in Show for his hybrid 'Stony Brook' , ('Voluptious' x 'Point Defiance'). It had a lovely full truss of pale pink and yellow.



Best Rhododendron in Show:
'Stony Brook' by Werner Brack

Photography and Art Contest

The top awards in Photography were:

Flower Close-up: "Consolini's Windmill" by Bill Bedwell
Plant: "Deciduous Seedling" by Howard Kline
Foliage: "Shape Variation" by Wing Fong
Landscape: "Exbury Reflecting Pool" by Bill Bedwell
Artistic Impression: "Rhododendron canescens" by Wing Fong
Best Photograph Entry: "Exbury Reflecting Pool"

In the Art and Craft portion, the following were top winners:

Painting: "Landscape" by Noralie Katsu
Sculpture: "Carved Rhododendron Trunk" by Gray Carter
Fabric: (tie) "Quilt Wallhanging" by Gretchen Johnson and "Needlepoint Azalea" by Gray Carter
Flower Arrangement: "Springtime Treasures" by Valerie Lorenze
Best Art or Craft entry: "Carved Rhododendron Trunk"




Best Entry in Art or Photography Show:
"Exbury Reflecting Pool" by Bill Bedwell

The Best in Contest for the Photography and Art Show went to Bill Bedwell for his photo, "Exbury Reflecting Pool". While visiting the Exbury Estate in England, he photographed a pair of black swans, their necks almost forming a heart, as they swam with their baby in a peaceful pool with orange azaleas reflecting in the waters.


---
On Saturday morning, we had a choice of tours. One group left for the Baltimore gardens of Jerry Hudgens and Harry Weiskittel and returned to the National Arboretum later that afternoon. The other tour visited five private gardens near Rockville including co-chair Bill Miller's home as well as Brookside Gardens.
That evening, we had our first banquet, a brief auction, and our first keynote speaker, Dr. Hartwig Schepker from Bremen, Germany. His digital presentation was absolutely stunning, with images and video clips of plant exploration in China, Borneo, Nepal, and Gregory Bald. Later, George McLellan and Jim Brant spoke about an aerial photograph of Gregory Bald made by the Middle Atlantic Chapter, followed by Matthew Chappell who presented his PhD research on DNA of native azalea populations. Matt is a rising star in the rhododendron realm, and interned under the late Fred Galle.
The Sunday tours visited the garden of our registrars, Norman and Jean Beaudry, and McCrillis Gardens. They also went to the garden of Ed and Mary Reiley and that of Deb and Mike White, the grandson of George Harding. Threatening weather managed to hold off until everyone was on the bus, but then did it rain!
We really were fortunate with the weather this year. Spring arrived nearly three weeks ahead of schedule, compared to last year, but cool, dry weather held much of the bloom until after the convention. How different things would have been if we had been besieged by heavy rains such as the torrents we saw this June.
Saturday evening, we enjoyed a formal banquet and awards for the ARS and ASA. How proud we were when our own Dr. Sandra McDonald received a most deserved, ARS Gold Medal. Dr. John Creech, former Director of the National Arboretum, was the convention's honored guest that night, and he received the ASA's Distinguished Service Award. Jim Gardener, Director of Wisley Gardens in the UK, was the keynote and he spoke about evaluation and testing of plants at the RHS.
By that time, we had closed the plant sale and to our amazement, most of the plants had been sold! We divided up what remained among the four chapters and cleared out in about an hour.
The next morning, the post convention tour left the hotel at 6:30 AM. Shortly after arriving at the Louer garden, the heavy rains stopped and eventually the sun came out. From that point on, we had lovely weather again. We visited Monticello (pictured below) and ate a hearty lunch at nearby historic Michie Tavern.
Everyone enjoyed the views and wildflowers along the Blue Ridge Parkway. Deep pink native azaleas (R. prinophyllum), and pink, purple, and white forms of R. catawbiense were in peak bloom. We spent the night at the Peaks of Otter, and the next morning, saw the lovely garden of Paul James before returning to Rockville.
Yes, the convention was a success. We estimate that every chapter should also net about $3000 to $4000 excess proceeds from the plant sale. Wow! Great job, everyone!!
| | |
| --- | --- |
| Monticello | Blue Ridge Parkway - R. prinophyllum |
Companion Plants for the Shady Garden by Don Hyatt
As my garden matures, it gets harder and harder to find space for new rhododendrons. However, I can usually find room under those big shrubs for a few companion plants. I am particularly fond of my wildflowers and thought I would discuss a few of my favorites.
Lady's Slippers – Native Orchids
My most cherished wildflower in the garden is the large flowered Yellow Lady's Slipper (also Ladyslipper). This wild orchid, Cypripedium parviflorum var. pubescens, blooms in early May with a fairly large flower that has a bright yellow lip and contrasting twisted petals and sepals of chocolate brown striped with green. I got my original plants in high school, and this spring the clumps boasted more than 75 flowers!

Yellow Lady's Slippers are some of the easier native orchids to grow. They need open shade and a well drained soil, rich in organic matter. They also prefer a near neutral soil rather than acidic, so I sprinkle a bit of ground limestone on the soil around my plants every few years. I do keep that lime away from my rhododendrons.

Another favorite orchid is a plant the chapter gave me as a "thank you" for serving as your president for so many years. It is the Showy Lady's Slipper, Cypripedium reginae. The large flowers are white with a pink lip, and usually bloom in early June.

I used to have a Showy Lady's Slipper that my parents gave me as a birthday gift when I was in college, but I killed it with kindness. My mistake… I gave it fertilizer, a light dusting of cottonseed meal. I thought the organic fertilizer would make it grow faster but instead, the entire plant rotted off in a matter of weeks. One must be careful about fertilizer, especially on orchids!

With the chapter's gift, I planted the roots in of my new Showy Lady's Slippers in an area with high open shade and rich well drained soil. These orchids like a neutral pH, so I give them a light dusting of lime every couple of years. From single pips the first year, the clumps have grown well and one had six flowers this spring.

Unfortunately, both of these orchids will be eaten by the deer, so I try to shake some garlic powder on the leaves after every rain. The powder sticks in the fuzzy leaves and the critters think they are unsavory members of the allium family. Note: I use garlic powder and NOT garlic salt as the latter will kill the plant.


Yellow Lady's Slippers




Showy Lady's Slippers



I have been frustrated in that I have never been able to grow the Pink Lady's Slipper in my garden. When I was a child, there were many of them in the 80 acres of woods behind my house. I would pollinate them each spring and spread the seeds around under the pines. By the time I left for college, there were huge beds of them back there but none would grow in my garden.

The Pink Lady's Slipper is notoriously hard to grow. The plant needs a dry, poor soil that is very acid, a pH of about 3.0 to 4.5. It also needs a symbiotic soil fungus that grows in association with the pines. If conditions are not perfect, the fungus dies and so does the orchid in short order.
Trillium species
Another favorite wildflower is the great white trillium, Trillium grandiflorum, also known as the Showy Trillium. I have about eight trillium species in the garden and covet them all, but the Showy Trillium is truly my favorite. The flowers open white, but turn to pink as they age.
In late June to early July, I start collecting seeds off of my trillium. The Showy Trillium has a greenish berry-like seedpod that develops where the flower was last spring, and it begins to turn white or light yellow as the seeds ripen. That is the time to collect those seeds. When the pod is ripe, it falls off and contains a lot of sugar which ants find very attractive. One must get to the seeds before the ants do since they swarm all over the pods and quickly carry away those seeds. This is the natural seed dispersion method in the wild, but since trillium seeds can often take two years to germinate and ants may carry them into my lawn, I want know where they are. I plant those seeds in some place where I can watch them, and eventually transplant those seedlings into the garden where they will bloom in future years. Trilliums can take 4 to 7 years to bloom from seed, but so do many rhododendrons and azaleas. They are all worth the wait.
Unfortunately, trillium plants are also favored by the deer. Since the leaves are smooth, the garlic powder falls off so I use a home made spray using eggs and hot sauce. It keeps the deer away from my trillium, as well as daylilies and hosta. The recipe is at the end of this newsletter.
Some Deer Resistant Companion Plants
The previous wildflowers are all favorite deer foods, so I thought I should mention a few companion plants Bambi won't eat. Most of these are either poisonous, or generally unsavory due to aromatic foliage or other qualities.

Hellebores

Hellebores are quite tough and bloom in late winter to early spring. The deer won't eat them since they are poisonous. The flowers come in a broad range of colors from white, cream, green, pink, yellow, red, plum, and almost black. They can be spotted or banded with deep red to almost black. Some of the hybrids have double flowers and others can have attractive mottled foliage.

One advantage to hellebores is that they bloom for such a long time. The blossoms, which are actually large bracts, usually open in February or March and remain on the plant for most of the summer. The colors usually change to green as they age, but they still give the appearance of a blossom which is nice.

Some varieties can be propagated by division but the process is slow, so most hellebores are propagated by seed. People have been working for many years with limited success using tissue culture techniques to propagate selected hellebore varieties. Some forms are being cloned now but most have proven very difficult.

The seed should be planted as soon as it ripens in late spring, but it won't germinate until the following year. Hellebore seeds need stratification, a combination of moisture and winter cold, before they germinate. Therefore, just toss them in a pot or let them fall around the parent plant and wait for them to germinate in the spring. If you have mature hellebores in your garden, you may already find lots seedlings underneath, so just move them to another location, or pot them up and share with friends.

In early March of this year, several of us visited Pine Knot Farms, a nursery specializing in hellebores that is located in Clarksville, VA, near the North Carolina border. We also went to Plant Delights Nursery near Raleigh, NC. Both are primarily mail order nurseries, but they have open house weekends in early spring when they sell directly to the public from the nursery.

We got to Pine Knot Farms on their second weekend, March 7th, but unfortunately, most of their double hellebores were already sold out. The owners said most of their doubles went in the first hour of the first day of the sale the previous weekend. However, we still picked up some great plants, admired their display garden, but vowed to get there earlier next year. Mark your calendars for the last weekend in February.

Virginia Tech is now working with Pine Knot Farms to try to propagate some of their best doubles by tissue culture. I hope they succeed.




Anemone nemorosa 'Vestal'

I don't know if the Wood Anemone, Anemone nemorosa 'Vestal' is totally resistant to deer but nothing eats this perennial in my garden. The plant is an excellent and carefree groundcover for moist shade and seems to be very compatible with rhododendrons and azaleas. It grows about 4 to 6 inches tall and spreads by underground rhizomes. The 1.5 inch wide flowers are pure white with a button-like, tufted center and last for at least 3 weeks or more. The deep green ferny foliage is excellent and persists through mid summer. Native to Europe, it seems right at home here and the rhizomes are poisonous, not eaten by voles.

I saw 'Vetsal' for the first time when I attended an ARS Convention in Portland, OR. We were visiting the famed Cecile Smith garden, and underneath his R. yakushimanum plants was a starry carpet of this wildflower in full bloom. The landscape effect was truly spectacular and I always wanted to match that scene in my garden.

I also have the single form of Anemone nemorosoa, possibly the form 'Robinsoniana'. It has wonderful aster-like flowers of light blue with a yellow center and makes a wonderful groundcover, too. It is perfect with R. keiskei.

The rhizomes of Anemone nemorosa can be planted in the fall along with most bulbs, but be careful to get those rhizomes in the ground without delay as they can dry out very quickly.

Daffodils and Narcissus – 'Tete-a-Tete'

I guess no discussion of carefree, deer proof plants is complete without mentioning daffodils and narcissus. They are great companion plants and are not bothered by deer or any other critters.

Some varieties seem to be better perennials than others in my shady garden. Each year those will multiply into larger and larger clumps. Other varieties are more demanding and will sulk if not given great soil and adequate sun. Instead, they decline and disappear over time for me.

One of the best perennializers is a dwarf called 'Tete-a-Tete', a small yellow that often has two flowers per stem. It looks just like a perfect miniature daffodil. Noted bulb expert, Brent Heath, tells me that 'Tete-a-Tete' is now the most common narcissus in the world, having outstripped many other common varieties like 'King Alfred' and 'Ice Follies'.

I must admit that 'Tete-a-Tete' is the most common bulb in my garden now. I started using it to plant around some of my other perennials like hostas and daylilies, just as a vole deterrent. Those other perennials are always being eaten by voles, but daffodil roots are poisonous and seemed to repel vole activity in the area. Because 'Tete-a-Tete' is dwarf, they didn't compete with the perennials either. Try planting a few.

The Christmas Fern

The evergreen Christmas fern, Polystichum acrostichoides, is another "class act" companion plant for the shady garden. It is not bothered by deer or insects. It is very hardy and seems to grow in almost any soil. The deep green fronds remain attractive all year long, although by late winter some may look a bit worn. Never fear, they will soon be replaced by new fronds as the silvery fiddle necks unfurl in the spring. Large clumps can be divided in fall or early spring, and plants can be moved around almost any time.





Tete-a-Tete


Christmas Fern

Tree Peonies

Another aristocrat of the garden and a plant that the deer will not eat is the tree peony, Paeonia suffruticosa. These spectacular shrubs have enormous flowers in April or May that can measure 8 to 10 inches across. The flowers may seem huge but at the same time they are quite delicate with ruffled petals in shades of white, pink, salmon, red, lavender, purple, and even yellow. There are single to semi-double forms with bold tufts of stamens in the center of each blossom and often contrasting markings. There are fully double varieties, and some are fragrant.

Tree peonies are deciduous but have quite attractive foliage, too. If given dappled sun and rich, well drained neutral soil, they can be great companion plants in a rhododendron garden.

Named tree peony varieties are usually very costly, often $50 to $100 or more for a mature plant. However, many mail order companies carry two year old grafts that are much less expensive. They can also be grown from seed.

Tree peony seeds have complex dormancy requirements and often take two years to germinate. After that, they can take another 4 to 5 years or more to bloom but it will be worth the wait. Several years ago, I picked up a few tree peony seedlings at a Middle Atlantic Chapter ARS meeting. They were started by one of their members, Ron Brown. Ron has a spectacular 3 acre garden near Harrisonburg, VA, with over 500 mature tree peonies underplanted with Trillium grandiflorum and Virginia Bluebells. Every seedling I got from Ron was better than the named varieties I have purchased. From now on I will be raising tree peonies from seed, too.
An Inexpensive Spray to Deter the Deer
I have been using the following home-made spray to repel the deer. It works for me and is much less expensive than commercial products.
In a blender, I mix the following on high speed until well blended.
6 eggs
1 cup milk
1/3 cup Hot Sauce (Tabasco, Crystal, etc.)
1/8 tsp. Dawn Liquid Detergent
I then add enough water to make 2.5 to 3 gallons, and spray this mixture on foliage and flowers of susceptible plants at least once a month during the growing season, or after heavy rains. Be sure to clean out the sprayer thoroughly afterwards.
A Few Favorite Mail Order Plant Sources:
The Vermont Ladyslipper Company (Orchids)
56 Leduc Road, New Haven, VT 05472
www.vtladyslipper.com
Pine Knot Farms (Hellebores)
681 Rockchurch Road, Clarksville, VA 23927
(434)-252-1990
www.pineknotfarms.com
Brent and Becky's Bulbs (Bulbs, Anemones)
7900 Daffodil Lane, Gloucester, VA 23061
(804)-693-3966
www.brentandbeckysbulbs.com
Plant Delights Nursery, Inc. (Wildflowers, Rare Plants)
9241 Sauls Road, Raleigh, NC 27603
(919)-722-4794
www.plantdelights.com
District 9 Meeting in 2007
The National Convention is barely history, but mark your calendars for next spring. The Middle Atlantic Chapter is hosting a District meeting in Richmond, VA. Barbara Hall is coordinating a new feature at this meeting, a "Pot Luck Plant Swap". Here is a note from Barbara:
POT LUCK PLANT SWAP – by Barbara Hall
Spring 2007 District 9 Meeting
This season when you're dividing perennials, potting up seedlings or rooted cuttings, or if you just have "extras" of desirable plants of any type in your garden that you'd like to share, please keep in mind the "POT LUCK PLANT SWAP" which will take place at the ARS District 9 meeting which will be held in Richmond, VA, April 27 – 29, 2007. Start potting plants up now and then continue adding to your "stash" so that they will be well established by meeting time. The plants will be FREE, continuing the old-fashioned tradition of gardeners sharing plants with each other. More details about this fun event will follow.