Potomac Valley Chapter
of the
American Rhododendron Society
Evergreen Azaleas
Plants for Members
Evergreen Azaleas Photo Gallery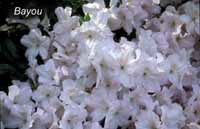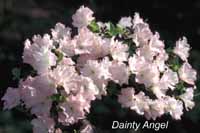 Plant List and Descriptions
August to Frost (Matlack) - This plant starts blooming in August and continues until frost. Plant was developed by a local hybridizer and introduced by Norman and Jean Beaudry after his death.
August to Frost, purple sport - A selection discovered in Jim Gears' nursery. Same bloooming characteristics as the white form.
Bayou - Belgian Glenn Dale with spectacular single blooms that look like Mother of Pearl. This plant was one of the most talked about azaleas in Bill Bedwell's garden during the Richmond ASA tour.
Cream Ruffles (Kehr) - Augie Kehr hybrid with creamy white blooms
Dainty Angel (McDonald) - Rooted from Sandra McDonalds spray that took Best in Show at the last District IX meeting. Delicate pale pink on compact plant. Superb in every way!
Fairfax (Ring) - One of George Ring's best introductions. Compact pink with paler centers.
Janet Flick - I am sure it is lovely but I don't know this one (Don Hyatt comment)
Lady Robin - Wonderful Robin Hill hybrid. Tends to sport.
Lovely Linda (Klimovics) - Recently registered hybrid of Dayspring. Nice hose in hose pink with paler center.
Martha Hitchcock - Bicolor Glenn Dale. Hardy.
Mary Lou Kehr (Kehr) - Named by Augie Kehr for his wife, this beautiful azalea has large double flowers in a soft shade of rose pink.
Orchido (Ring) - Sister seedling of Fairfax but with orchid colored flowers. Excellent.
Red Lustre - Rosy red with excellent variegated foliage.
Rice Kernel - Shy to bloom but wonderful plant with tiny leaves.
Rings True (Ring) - Hardy hybrid of H.H. Hume. An excellent hose in hose white.
Yama-no-Hikari - Satsuki
Wagner's White Spider - Hybrid of Koromo Shikibu with white, spider-like flowers. Developed by former Potomac Valley Chapter member Dave Wagner and rooted from a spray in the local truss show.
Walter's Pinwheel (Przypek) - A hybrid by Walter Pryzpek of Koromo Shikibu and the species R. nakaharae. Mounding plant habit with strap-like petals that are a more pink than Koromo Shikibu. Very Nice.