Potomac Valley Chapter
of the
American Rhododendron Society
Gable Hybrids
Plants for Members
Gable Rhododendron Photo Gallery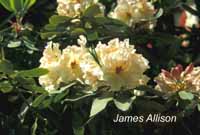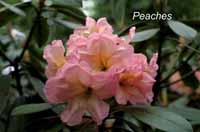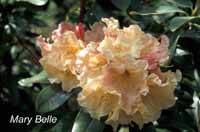 Descriptions
Albert Close - A cross of maximum with the West Coast species macrophyllum. Hardy light pink that blooms in late May to early June.
Anne Glass - A nice clear white
Atroflo - A somewhat open plant with large flowers of a deep rose red. Foliage is indumented and white when it first comes out.
Cadis - Outstanding pale pink opening in late May. A cross of Caroline with discolor, this plant is a sibling of Robert Allison which blooms a bit earlier. Rugged plant with excellent plant habit.
Caroline - Fragrant lavender pink on an outstanding plant. Very vigorous root system and extremely hardy. Parentage was unknown but probably a decorum or brachycarpum hybrid. Plant gets better every year.
County of York - Excellent white with interesting recurved leaves.
David Gable - Early blooming pink with a deeper center. The cross was Atrosanguineum by fortunei.
Disca - Huge basketball-sized trusses that open in late May. Individual flowers exceed 4 inches across and are fragrant. Thought to be the reverse cross of Cadis but some feel it may be just an excellent form of discolor.
Dr. Rock - Hybrid of houlstonii with vernicosum aff. 18139. The flowers are warm pink and the plant seems to be hardier than either parent.
Fortunei-Madonna - Large white flowers. The reverse of Madfort.
Fragrant Stranger - A selction from R. houlstonii
Gable 14-59 - Annie Dalton Hybrid with large pink flowers.
Hannah Hersey (Catfortcampy #2) - Soft pink blend that blooms in early May. Probably the best of the CatFortCampy seedlings. (catawbiense x fortunei x campylocarpum)
James Allison - Mary Belle x R. vernicosum aff. 18139. Gable admired this plant but thought he should watch it to see how hardy it was. Excellent light yellow with ruffled flowers for the Washington D.C. area. Gable's daughter Caroline did introduce it after his death.
Katherine Dalton - A rugged shaply plant that was a cross of fortunei with smirnowii. Practically insect and disease free with lovely pale pink flowers.
Kulu - One of the selections of R. vernicosum aff. 18139 known as clone #2. Flowers are a bit more pink than Mt. Saga, clone #1.
Mac Kantrus - Lovely deep pink with dark markings in the throat. Has won awards in the PVC Chapter.
Mary Belle - Ruffled flowers that come out peach pink and eventually change to buff yellow.
Mary Garrison - Fortunie cream crossed with vernicosum aff. 18139. Mounding plant habit with yellow to orange bell like flowers. An excellent parent for hardy yellow rhododendrons but a bit hard to root.
Mary K - A nice pale lavender pink with excellent foliage. The cross was catawbiense album Glass with fortunei
Mary Yates - Flowers seem to glow in the landscape.
Mt. Siga - A selection of seed grown from the Rock explorations, identified as vernicosum affinis #18139 #1. Not quite as pink as Kulu which is clone #2 but perhaps a better plant.
Peaches - Unknown parentage but a lovely plant with good foliage and flowers that peach pink but eventually fade to a lighter shade. George Ring speculated that it might be a smirnowwi cross because of the foliage.
R. fortunei, Gable form - A very hardy selection of the species.
Rhein's Find - Cadis crossed with Kluis Sensation.
Sheer Pink - Large basketball size trusses of pale pink to white. Looks almost like a Loderi but is hardy.
Souldis - Soulei crossed with discolor. Hard to root.
Smirnowii - Yak - This is a Haag selection of Gable's cross of smirnowii with yakushimanum. Wonderful plant habit and ball-shaped trusses of pink shading to white.
Vandal - Rare plant
W. H. Ebaugh (Gable 55-64) - A hybrid of Maxhaem (maximum x haematodes) crossed with Caroline. Large pink flowers with warm overtones in a nice truss.